skylifeindustry.com
A new start-up bee colonies protect has been started to operate
In recent years, the population of bees on our planet has noticeably decreased. This is due to many factors. First of all, with the active use of pesticides by humans and other anthropogenic factors.
These bees are the main pollinators of plants that need to carry pollen. The decline in the bee population poses a great environmental threat to all mankind.
Now many organizations, foundations and companies are trying to replace the functionality of these bees with robotic drones as pollinators. One of them is the launched new scientific startup SkyBee. The startup is developing in two main vectors:
* construction of flying drones, simulating the movement of bees and capable of performing the functions of pollination;
* the use of robotic bees in the field of agriculture with the same functionality that drones are capable of. These skills are learned on the basis of monitoring the life-activity and functionality of the bees by the drones themselves.
The team is developing a separate platform that will collect information about more than one hundred thousand species of flowers, plants, bushes and trees. Based on the integrated library, the drones will recognize their companions, on which they will carry out pollination work. There will also be information about ground works intended for pollination in natural conditions and in greenhouses. The platform will facilitate the work of farmers and government organizations in the field of pollination of plantations and orchards, and will also protect bee colonies from harmful chemicals.
The work of the team is based on scientific research in the field of agriculture, agronomy, ecology, bio-chemicals, fauna and flora. The main goal of the team is to carry out pollination without damaging the integrity of nature and natural resources.
New organic mixtures are also being developed that will replace the use of pesticides in the pollination process. They will also play the role of artificial biological food for bees and other insects.
The project was developed on the basis of a scientific grant by "Gələcək İz" (Sky Life İndustry) company.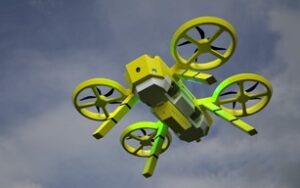 #smart #technology #smarttech #greentech #futuretech #startup #IoT #drone #uav #robot #investor #angelinvestor #finance #future #capital #venturecapital #investment #incubation #idea #grant #award #bee #pollination #agriculture # ecology #globalcrisis #foodcrisis #greening